Professional Loctician Training Workshops December 3rd-4th!
The Loc Den 2 will be hosting Beginner & Intermediate Level Loctician Training Workshops in Missouri City, TX (SW Houston) on December 3rd & 4th, 2023 from 10 AM to 3 PM! Click the link for more info!
Experience hands-on professional lessons working with Master Loctician Shenaté Lamar (Owner of The Loc Den and Royal Kinks & Coils) utilizing Royal 4C Afro Kinky Textured Mannequin Heads and Afro Kinky Hair Extensions!
Invest into developing high-value Loctician skills & abilities with expert instruction provided by The Loc Den 2 Founder & CEO Shenaté Lamar!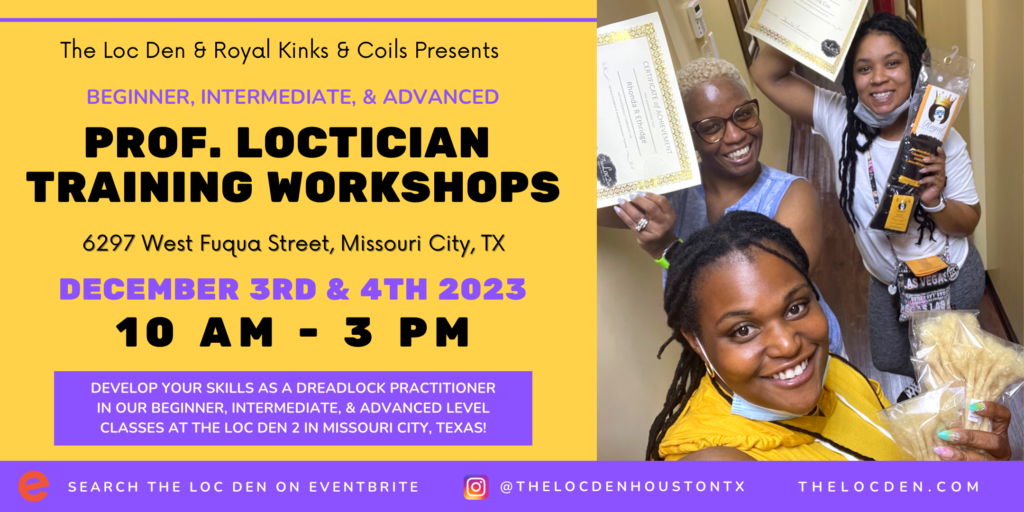 The Loc Den is a natural hair salon in Houston, TX specializing in Loc cultivation services for all textures of hair. We offer a comprehensive menu of services, providing clients with the highest quality of hair care assistance and expertise.
We love what we do, and are deeply committed to serving our patrons. We have over 20 years of collective experience in our industry, and are the supreme service solution for cultivating and maintaining healthy & beautiful Locs.
We are Houston's top natural hair salon specializing in Dreadlock services for all textures of hair.
Starters | Maintenance | Styling | Repair​
Wrap & Crochet Loc Extensions | Reattachments​
Caucasian | Asian | Hispanic | Mexican Dreadlocks​
Braids & Twists with & without Hair​
The Best Natural Hair Salon in Houston for your precious Locs.
Become a master Loctician with professional classes instructed by hair experts at The Loc Den.
Book an appointment with the Loc Den today!