Become a Loctician with professional classes provided by Dreadlock experts at The Loc Den
Professional Loctician Training Workshops December 3rd-4th!
The Loc Den 2 will be hosting Beginner & Intermediate Level Loctician Training Workshops in Missouri City, TX (SW Houston) on December 3rd & 4th, 2023 from 10 AM to 3 PM! Click the link for more info!
Experience hands-on professional lessons working with Master Loctician Shenaté Lamar (Owner of The Loc Den and Royal Kinks & Coils) utilizing Royal 4C Afro Kinky Textured Mannequin Heads and Afro Kinky Hair Extensions!
Invest into developing high-value Loctician skills and abilities with expert instruction provided by The Loc Den 2 Founder and CEO Shenaté Lamar!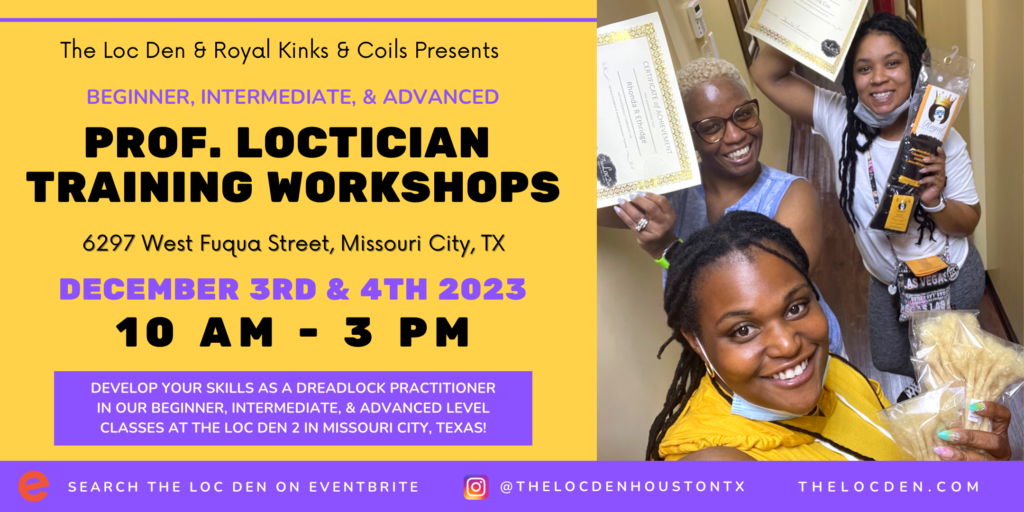 Dreadlocks have become one of the most in-demand hairstyles in the world among diverse cultural groups! Mastering the art of Loc maintenance and styling can serve as a highly profitable skill set giving practitioners immense working freedom and flexibility.
For In-Person Students Lunch & All Tools will be provided: combs, clips, 3 crochet hooks, stands, and hair.
Beginner/Intermediate Class
Register for Classes Today!
Invest into your Loctician career with the most proficient hands on learning experience in Houston.